We come to the end of Lent, having been asked to give up more than we ever imagined at its start!
This Lent has revealed in unprecedented ways, what is really precious. We are learning not to expect to be in control any more, but instead are noticing traces of grace and beauty. Thursday evening NHS cheers of gratitude filling the air. Refusing to be shaped by the prevailing media culture of fear or constantly drained by screen fatigue, instead in the stillness, to mirror God's joy of creativity. Realising the extent to which our footprint impacts creation's flourishing.
Barriers have been broken down and boarders are replaced with a sense that all people across the world are in this together as 'one team'. As neighbours and strangers reach out to one another, they become new family and friends. Jesus calls this the Kingdom of God. We shouldn't be surprised really, when love wins and selfishness dies.
On Palm Sunday we celebrated Jesus entry to Jerusalem, the humble leader and King of Kings, the God man, who gives up all wealth and power to suffer with us amidst the worst of human experience. Shame, nakedness, pain and isolation. This Easter many of us will experience Good Friday like no other, the ironically named day of death and loss. All we rely upon seems to be stripped away, feeling overwhelmed and betrayed. And when we have little of our own, we can call on God to give us his strength. As we walk through the darkest valleys, we find that God is there too.
Because on Easter Day the tomb is no longer a place of death but the source of all hope. Easter day is the day all death is defeated. Easter is when love wins and selfishness dies. Jesus through his giving of his all for us, reunites us with the source of all love.
As life is changing all around us, join us in our Easter Services when we call on God for his strength, give thanks for his goodness and receive his peace and power to live lives to the full.
Our building is currently closed, but the church isn't because we are a community of ordinary people, who promise to continue to pray, love and care for all, especially the vulnerable in God's strength. Now we have the task of doing that in new ways;
Join our Easter 'Church from Home' Services click here
Palm Sunday at 10am - click here or News and Views tab.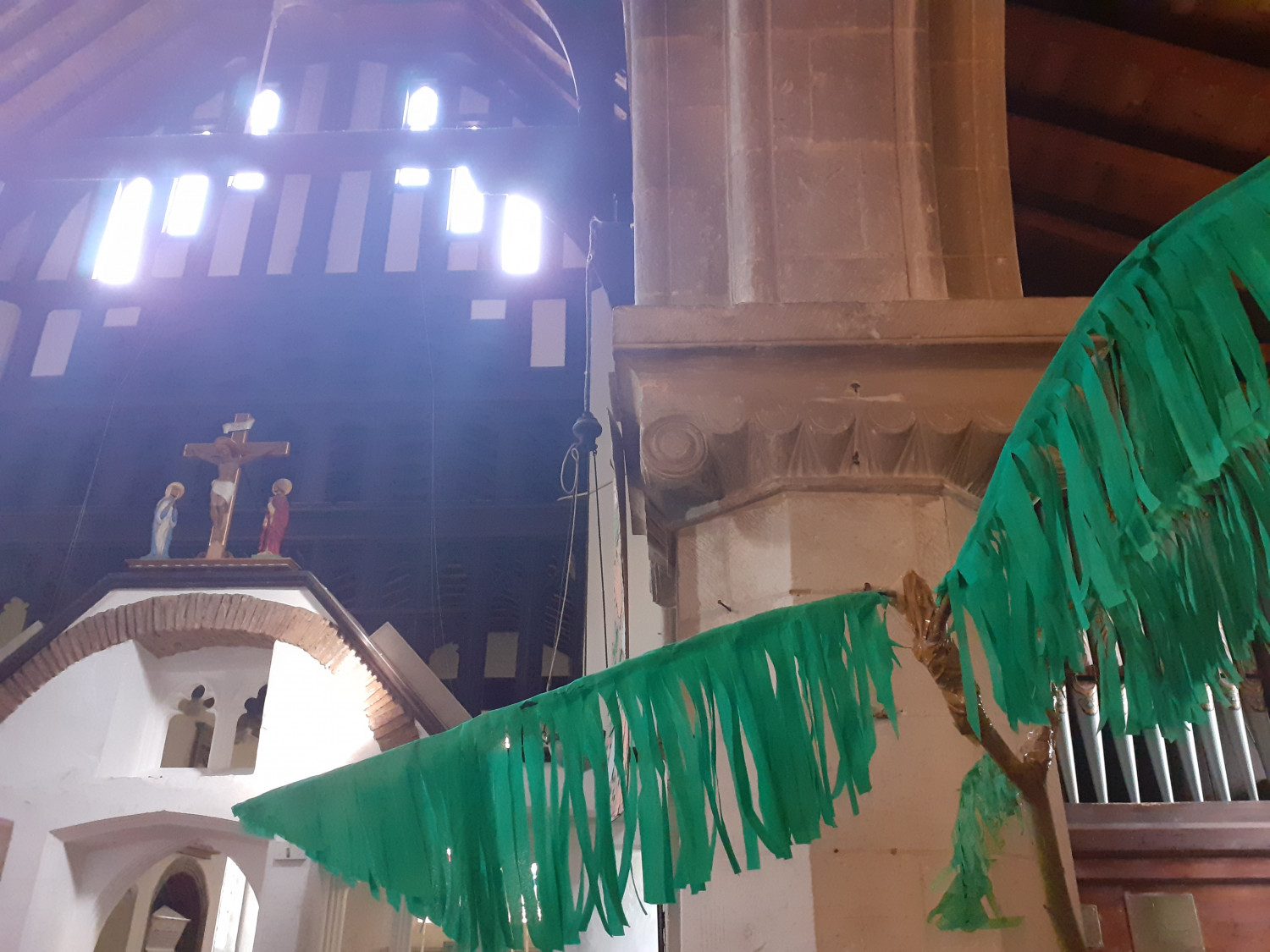 Do you have a Palm cross from last year?
Perhaps you can make a cross from paper or branches of greenery?
Send in photos of your Palm Sunday crosses or Easter activies from home to our Facebook page @StLeonard'sChurchSandridge or on Twitter @StLeonards2016
Easter Experience Palm procession by Krystyna Mitchell
Do keep in touch with your church buddy and close neighbours– phone each other regularly during the week and perhaps send a letter or card. Some folk are praying the Lord's prayer over the phone with one another or sharing prayer requests. How can you encourage each other in faith? What would be encouraging to you? Do contact us if you know of anyone who would appreciate a call
Church at Home at 10am each Sunday and Wednesday at 9.30am, please join in our service of prayer and praise found by clicking here or on the News and View tab on the top right of the home screen from the comfort of your home.
Continue to be generous. Our FEED food bank collection point is closed, so please if you can, offer a financial donation directly instead at https://www.thevineyardchurch.co.uk/feedfund . The homeless are one of the more vulnerable to health problems as they are less able to socially distance or access health advice. Please consider supporting local housing charities. And if you would like to continue financial giving to St Leonards click here or go to the tab on the top of the home page marked 'Join in !', scroll down to 'Make a donation' where you;ll find a standing order form and a gift aid form to complete if you pay tax. Thank you.
Feast on God's word. The Psalms were written by folks facing great difficulties. How about reading one before bed each night? Or study the bible in more depth through https://www.wordlive.org, a daily bible study and reflective reading of the bible.
This month's Parish Magazine is available in digital format only, request a copy from Christine Nutton christine@nutton.org.uk
Keep an eye out for a new Local Support System that has been announced that will make sure those individuals self-isolating at home and who are without a support network of friends and family will receive basic groceries. Community pharmacies will support those who need help getting their medicines delivered. How will you know whether you are one of these people? They will soon receive communications from the NHS asking them to shield themselves and stay at home for a period of 12 weeks. This should include clear instructions to call a specific number for help.
Consider Volunteering with Hertfordshire's community volunteer network. Sign up to #TeamHerts - www.thvolunteering.org.uk. Already we have seen a real uprising of residents, businesses and community groups – all tapping into an amazing community spirit.
Prayers about the outbreak.
Keep us, good Lord, under the shadow of your mercy in this time of uncertainty and distress.
Sustain and support the anxious and fearful, and lift up all who are brought low;
that we may rejoice in your comfort knowing that nothing can separate us from your love in Christ Jesus our Lord.
Amen.
Lord Jesus Christ, you taught us to love our neighbour, and to care for those in need as if we were caring for you.
In this time of anxiety, give us strength to comfort the fearful, to tend the sick, and to assure the isolated of our love, and your love,
for your name's sake. Amen
God of compassion, be close to those who are ill, afraid or in isolation.
In their loneliness, be their consolation; in their anxiety, be their hope;
in their darkness, be their light; through him who suffered alone on the cross,
but reigns with you in glory, Jesus Christ our Lord. Amen.
For those who are ill
Merciful God, we entrust to your tender care those who are ill or in pain,
knowing that whenever danger threatens your everlasting arms are there to hold them safe. Comfort and heal them, and restore them to health and strength; through Jesus Christ our Lord. Amen.
For hospital staff and medical researchers
Gracious God, give skill, sympathy and resilience to all who are caring for the sick,
and your wisdom to those searching for a cure.
Strengthen them with your Spirit, that through their work many will be restored to health; through Jesus Christ our Lord. Amen.
From one who is ill or isolated
O God, help me to trust you, help me to know that you are with me,
help me to believe that nothing can separate me from your love revealed in Jesus Christ our Lord. Amen.
For the Christian community
We are not people of fear: we are people of courage.
We are not people who protect our own safety:
we are people who protect our neighbours' safety.
We are not people of greed: we are people of generosity.
We are your people God, giving and loving, wherever we are, whatever it costs
For as long as it takes wherever you call us.
Barbara Glasson, President of the Methodist Conference
We would love to hear from you via email or phone call, Facebook or twitter, especially if you are feeling lonely and fed up, which I'm sure we all will at times. I will keep you updated as we go, but for now, sending this with my prayers and love,
Kate
Rev K Daymond, Assistant Curate, St Leonard's, Sandridge revdaymond@outlook.com 07305415057