Welcome to St Leonard's Church, Sandridge
St Leonard's church Eucharist services are now being held back in church on Wednesday at 9.30am and Sunday at 10am. We really hope not to turn anyone away but are only able to fit 25-30 people in church.
So if you are able to attend on Wednesdays instead of Sundays those who can only attend on Sundays would be very grateful.
Seating is arranged so you can sit a comfortable distance from one another. A service sheet will be provided but you might like to bring your own bible. Further information as to minor changes to the service will be given on the day.
The church is still open for private prayer on Wednesday's til 4pm and Sunday afternoons between 2:00pm and 4:00pm. Please wear a mask if you are able and use the hand sanitiser as you come in. St Leonard's church is your church, please use the space to be still, to be sad or angry to a God who knows our every need and longs to meet with us and give his comfort.
We are doing everything we can to minimise risk and to keep everyone safe. In return, please can you play your part by keeping to social distancing arrangements. Please attend if you're feeling well and have not been contacted by the Track and Trace team. Thank you. You can find a link to our risk assessment here: /welcome/re-opening-risk-assessment/
For those unable to join church services at the moment Daily Hope offers music, prayers and reflections as well as full worship services from the Church of England on a telephone line – which is available 24 hours a day on 0800 804 8044.
Church Family News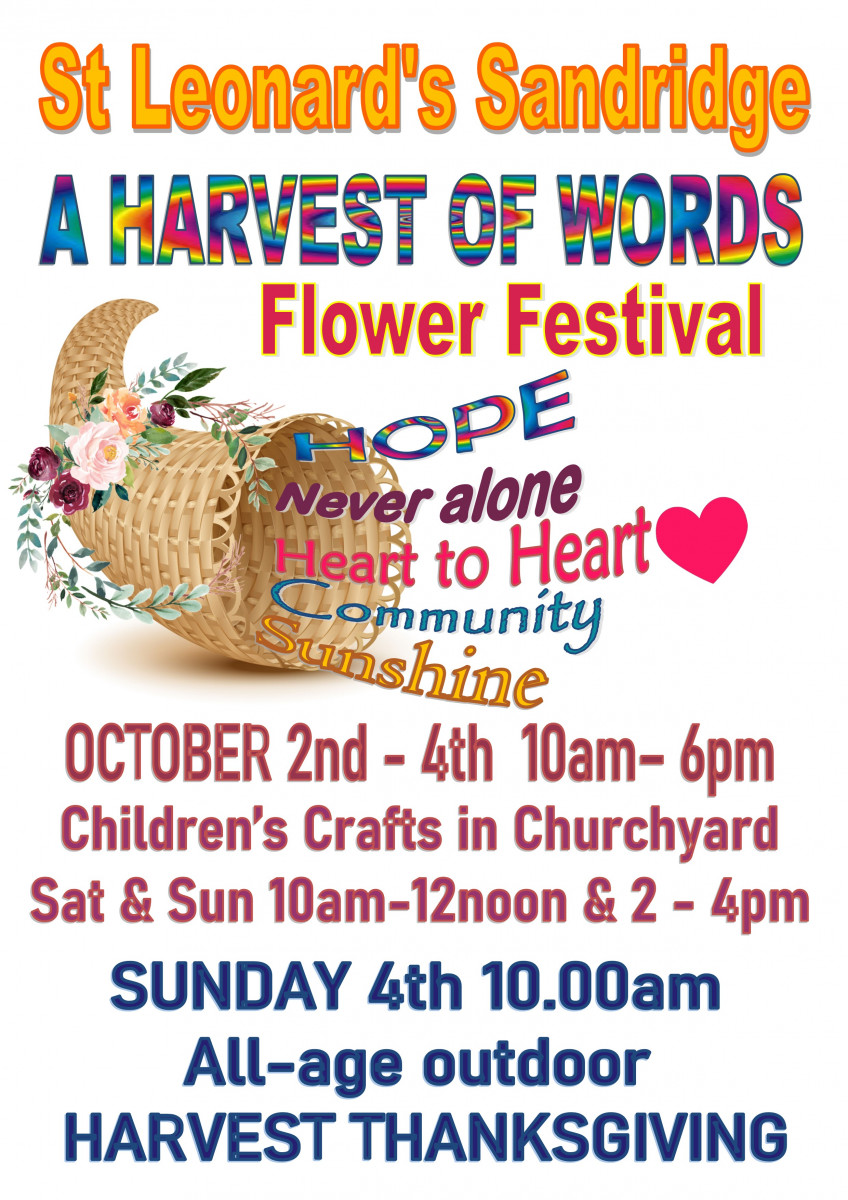 October 2nd - 4th 2020
Harvest Flower Festival weekend,
Let Christine Nutton know if you'd like to offer a display or fruit or vegetables on the theme 'Words'.
Including 10am All Age Sunday service of Harvest Thanksgiving and Children's crafts available 10-12am and 2-4pm on Saturday and Sunday.
Visitors are invited to bring a harvest offering at any point over the three days and leave it in church. All donations are to Vineyard food bank.
Following the How to Pray course, we have decided to meet once more on Zoom; to reflect together on a passage of scripture from the previous Sunday's lectionary, and pray both out loud and in silence, on five evenings over the autumn. The meeting will last up to an hour and we hope you can join us –

23rd Sept – Philippians 1; 21-30

7the Oct - Philippians 3; 4b-14

21 Oct – Matthew 22;15-22

4th Nov –Mathew 23.1-12

18th Nov –Matthew 25;14-30

The week's 'stand alone' so you're welcome to come to one or all. Click here for invitation details

This year, the Bishop of St Albans' Harvest Appeal is partnering with Tearfund to Create a buzz in Nepal.

In April 2015, Nepal was struck by two devastating earthquakes that killed 9,000 people and injured almost 22,000. This was the worst natural disaster to strike Nepal since 1934. Thousands of people were affected: families lost loved ones, communities were made homeless, infrastructures collapsed and livelihoods lost. Give now click here to help many Nepalese people who are still rebuilding their lives following such devastation and loss.

A Big Thank You to Patsy Cann for her part in the life and worship at St Leonard's - we send her with our love and prayers as she begins a lay leadership course based at St Michaels, St Albans and pray her time there will be one of creative challenge and inspiration. Thank you Patsy and i'm sure God will bless this next stage of your discipleship journey.

Sandridge Parish are writing a new Neighbourhood Plan. It will affect what can be built, and where, up to 2036 in the Sandridge Area. The period for publicising a Plan Proposal runs for eight weeks between Monday 27th July 2020 and 21st September 2020. More information on neighbourhood planning can be found at https://www.stalbans.gov.uk/neighbourhood-planning. 
FEED Food Bank - St Albans
If you are in difficulty or needing help with accessing food for yourself or family please contact us (see number below) or FEED programme here.
We are able to recieve donations with our FEED box now on Wednesdays and Sundays. You can also donate directly through Bankuet, the Feed programme's preferred way of receiving donations. BANKUET will not only deliver those items they're in need of, they'll also deliver them when the food bank need them as BANKUET can guarantee delivery on all the items needed. DONATE THROUGH BANKUET or you can drop off food at FEED Donation Points at St Albans stores of Sainsbury, Morrisons and Waitrose. Thank you.
Spiritual Encouragement
Many of us want to pray at a time like this. But we don't know how. No one is 'good' at praying. Its more like the cries of a toddler's first words, than an exam. Here are ways to be still and know that God is is listening and closer than we can imagine:
Ten minute meditations with music, bible passage and prayer: pray-as-you-go.org and for lockdown specific prayers click here - pray as you stay.
Morning and evening daily prayers are said by many, click here to join in : create a prayer space at home and perhaps light a candle if safe to do so or light a virtual one.

We pray this week particularly for the black and minority groups who are being worse effected by the virus and for scientists and NHS staff seeking a vaccinne, for the couples who have had to cancel their weddings and the families who have to wait to celebrate their child's baptism.
Black Lives Matter
Bishop Alan Smith and the Diocesan team are committed to this diocese becoming a family of churches, schools and chaplaincies within which all can flourish. Please click here to read the Ethnic Minorities Charter for the Diocese of St Albans.
Children and Covid
How do you explain lockdown to children? Axel Scheffler has illustrated a wonderful digital book for primary school age children, free for anyone to read on screen or print out, about the coronavirus and the measures taken to control it - Coronavirus A book for Children. There is also an audio version. For details click here.
We would love to hear from you via email or phone call, especially if you are feeling lonely, fearful or sad, which I'm sure we all will at times. I will keep you updated as we go, but for now, sending this with my prayers and love,
Kate
Rev Kate Daymond, Assistant Curate,
St Leonard's, Sandridge revdaymond@outlook.com / 07305415057
Facebook page @StLeonard'sChurchSandridge or on Twitter @StLeonards2016
This month's Parish Magazine is available in digital format only, request a copy from Christine Nutton christine@nutton.org.uk